UPAYA SATUAN POLISI PAMONG PRAJA DALAM MEWUJUDKAN KETENTRAMAN MASYARAKAT DAN KETERTIBAN UMUM DI BATANG KAPAS
Okma Sandra

Universitas Negeri Padang

suryanef suryanef

Universitas Negeri Padang

Henni Muchtar

Universitas Negeri Padang
Keywords:
Ketenteraman, Ketertiban, Polisi Pamong Praja
Abstract
Public tranquility and public order are a basic need of the city, as stipulated in Regional Regulation No. 1 of 2016 in the South Coastal District. But the fact shows that there are still many problems that arise as a result of violations of public peace and public order, such as those that occur in the cotton trunk area where most loose livestock are found throughout 2017. Therefore, the role of Satpol PP is needed in tackling loose livestock issues. This study aims to describe the form of Satpol PP efforts in controlling livestock in the cotton trunk area, constraints encountered when carrying out enforcement activities and solutions that must be done in overcoming the problems that occur. The method used in this study is qualitative. The results showed that the South Coast Civil Service Police Unit had carried out various efforts to control such as preventive, repressive and enforcement of penalties in the form of fines, but had not brought maximum results.
Keywords: public peace, public order, civil service police unit
Abstrak
Ketentraman masyarakat dan Ketertiban umum merupakan suatu kebutuhan dasar kota, sebagaimana yang diatur dalam Peraturan Daerah No 1 tahun 2016 di Kabupaten Pesisir Selatan. Namun faktanya menunjukkan bahwa masih banyak persoalan yang muncul akibat dari pelanggaran ketentraman masyarakat dan ketertiban umum, seperti yang terjadi di daerah batang kapas dijumpai ternak lepas paling banyak sepanjang tahun 2017. Oleh karena itu perlu adanya peran Satpol PP dalam menanggulangi persoalan ternak lepas. Penelitian ini bertujuan untuk mendeskripsikan bentuk upaya Satpol PP dalam penertiban ternak di daerah batang kapas, kendala yang ditemui saat melakukan kegiatan penertiban serta solusi yang harus dilakukan dalam menanggulangi persoalan yang terjadi. Adapun metode yang digunakan dalam penelitian ini adalah kualitatif. Hasil penelitian menunjukkan bahwa Satuan Polisi Pamong Praja Pesisir Selatan telah melakukan berbagai upaya penertiban seperti preventif, represif dan penegakkan hukuman berupa denda, namun belum membawa hasil yang maksimal.
Kata kunci: ketentraman masyarakat, ketertiban umum, satuan polisi pamong praja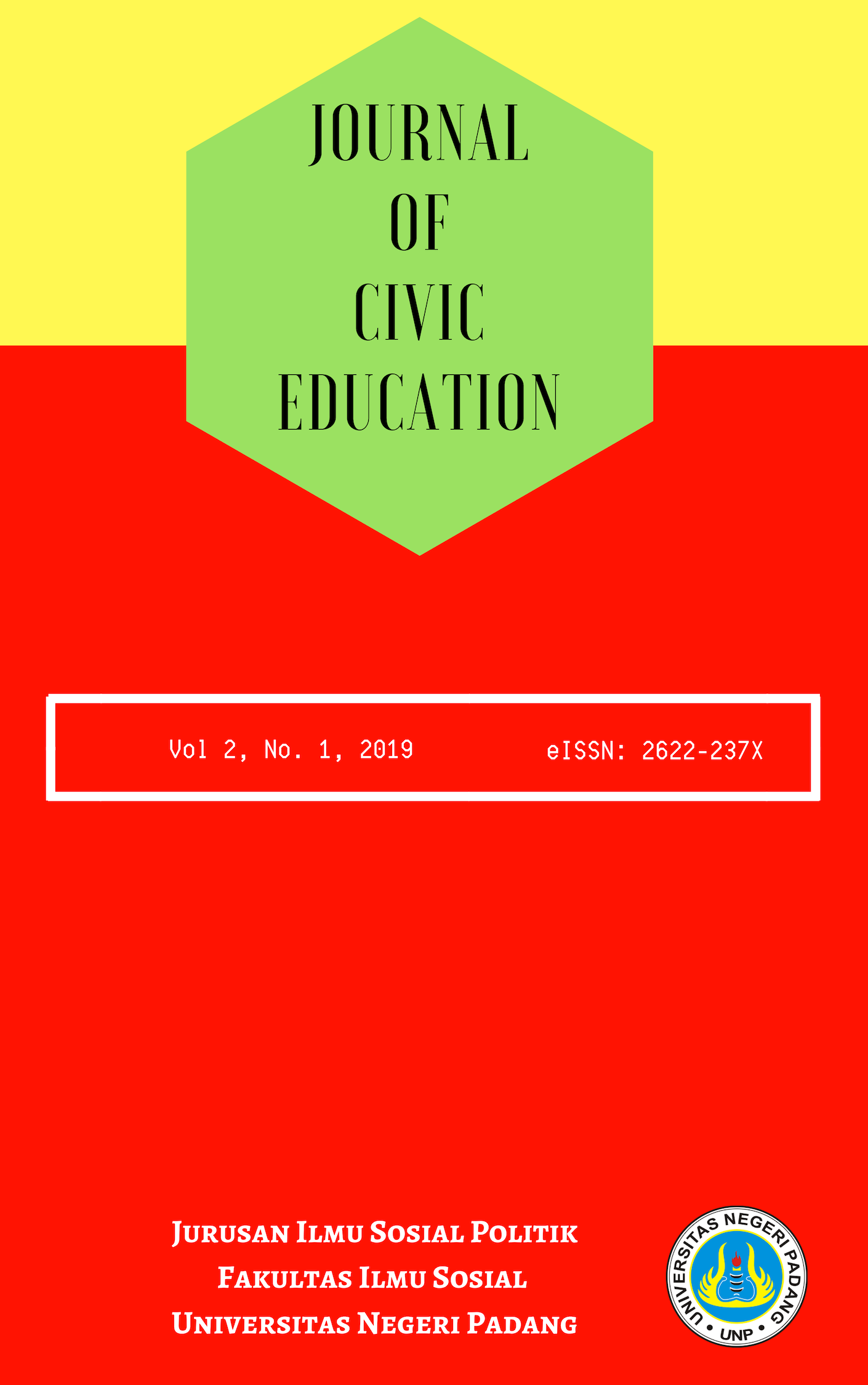 How to Cite
Sandra, O., suryanef, suryanef, & Muchtar, H. (2019). UPAYA SATUAN POLISI PAMONG PRAJA DALAM MEWUJUDKAN KETENTRAMAN MASYARAKAT DAN KETERTIBAN UMUM DI BATANG KAPAS. Journal of Civic Education, 2(1), 116-125. https://doi.org/10.24036/jce.v2i1.110